Description
JAMES HOWARD STANDARD SNOOKER CUE NO.4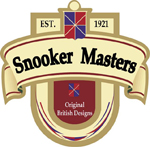 Very popular and well-balanced snooker cue with solid hit
Original Classic Traditional British design by James Howard
Shaft made from North American ash wood  with visible summers and signature of James Howard
Weight medium "M" – about 500 gr
Cue tip Elk Master 9 mm
Ferrule  brass 9 mm
Joint srew : Flanged Quick release
Simulated Matching Grain Ash
Ebonized Butt Section
Best Value for Money
This cue features a striking butt design with 4 full-length, simulated hand-spliced natural iroko butterfly points; enhanced by long black and white decal veneers.
This design is offset by a rich, burgundy-stained birds-eye maple simulated front-splice, enhanced again with black and white decal veneers.
The butt sleeve with chamfer features a stylish and traditional maple plate badge fitted with 4 brass screws that helps finish off this well balanced cue.
Material:  ash wood nature lacquered
Availability: at stock
Producer:  James Howard, UK